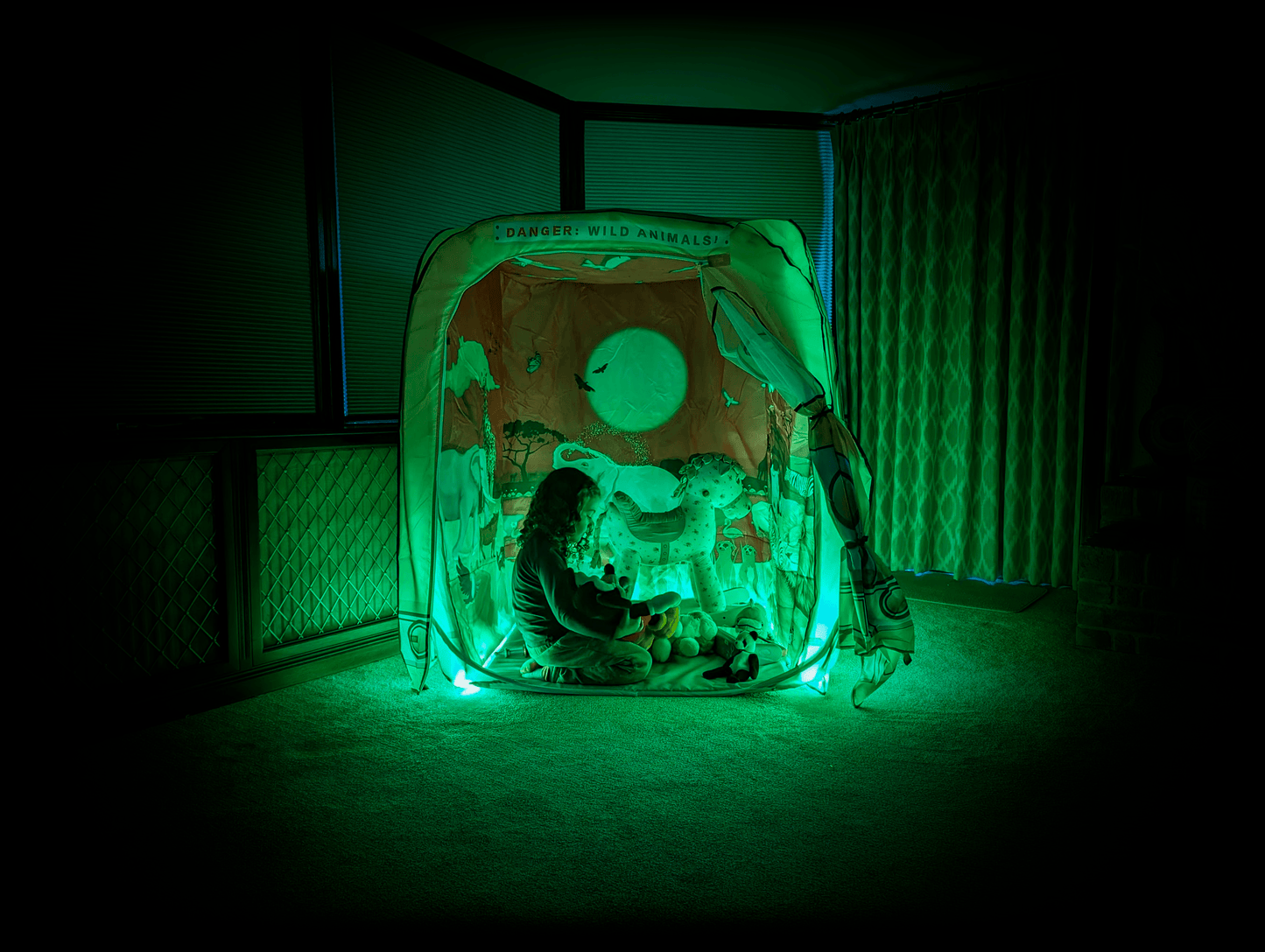 PODS explorers - we bring you some very exciting news!
We are thrilled to announce an addition to our PODS range - the PODSpop! This revolutionary sensory play tent is designed to provide a fun and stimulating environment for children to enjoy.
As the name suggests, PODSpop pops up within seconds, making it super easy to set up and take down and it provides a unique and immersive experience for kids and adults alike.
With vibrant colours and interactive features, the PODSpop is sure to be a hit with children who LOVE an adventure!
Interchangeable Themes
One of the most exciting features of the PODSpop is its interchangeable themes. Choose from four different adventures: rumble jungle, sub aqua quest, galactic space adventure, and sunset safari.
Each theme provides its own unique atmosphere, complete with vibrant colours and realistic imagery. It is super quick and easy to change the theme of your POD - this can be completed within a matter of minutes and provides endless hours of adventure.
Immersive Experience with our PODS Play App
But the fun doesn't stop there. The PODSplay app allows you to access sound effects, e-books and audio files related to your chosen theme, enhancing the immersive experience even further.
Imagine the sound of waves crashing on the shore and the magical relaxation sounds from the bottom of the ocean... Or the chirping of birds and windy breeze as you roam around in the heart of the jungle.
Perfect for Sensory Playtime - especially for children with additional needs such as autism
PODSpop also offers built-in sensory lighting to further enhance the immersive experience. This can be changed using the PODS remote control - meaning that one day you can enjoy a calming sensory blue for meditation, and the next you can party in style with the rainbow changing lighting effect!
PODSpop is perfect for indoor and outdoor play, providing a fun and imaginative space for kids to explore and create. It's also a great option for adults looking for a cozy and relaxing spot to unwind.
The perfect addition to any playroom...
Imaginative play is so important for children - especially younger children and toddlers as it is a key part of their day-to-day learning. Offering an imaginative play experience that allows children to explore their imagination and embark on their own adventures in their own bedroom is the perfect way to encourage creativity from a young age. It is perfect for children who love to explore, discover and create new stories.
PODSpop Benefits:
Space saving - At just 1.1m2 when popped up, PODSpop is ideal for all rooms in the house (probably not the bathroom though).

An affordable multisensory space.

Incredibly portable, creating a familiar experience wherever your little adventurer travels.

Quick, easy setup and pack away times. From 3 seconds.

Lightweight yet incredibly strong.

Easy to store - simply fold into the bag or store away.

Suitable for indoor and outdoor use (weather permitting).

Switch up the experience with interchangeable themes.

Energy reduction - PODSpop requires zero power to start the play adventure. If using the lights, these are low voltage 24v and running costs are £0.01 per hour. (Based on current energy rates).
Sensory Tent Features:
Remote control sensory lighting.


4 exciting removable theme options to choose from with matching audio themed files through the PODSplay app.


Inclusive Bluetooth speaker to elevate the audio experience from the app.


Heavy duty bite proof material. Removable for hand washing.


A Spring Steel frame literally pops up within 3 seconds ensuring a robust base for the most active of kids.


Memory foam mat for added comfort for both children and adults.
PODSpop Launching Now!
To celebrate the launch of the PODSpop, we are currently taking pre-orders on our website where our first customers will receive a £30 discount. This is a limited-time offer, so don't miss out on your chance to save on the ultimate in family fun.
So why wait? Visit our website now to pre-order your PODSpop and experience the magic of imagination and play. Don't forget to download the PODSplay app to fully experience the magic of the PODSpop.