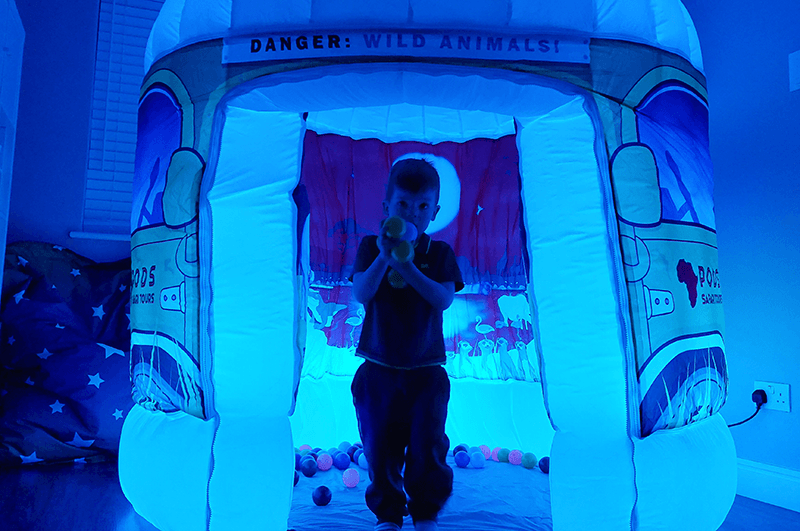 Why are sensory lights actually beneficial?
We always hear that sensory lights are great for children - particularly children with additional needs. But do we actually understand why sensory lighting is beneficial?
They are great for independent play...

Many parents will build a play den or have a play space at home for their child. This might be made from a play tent with lights and it is a great way to give your child the opportunity to have independent play and space to themselves. You might also fit your child's sensory play space with relevant props and educational toys to make it more interactive when they are playing inside.


Onto the benefits of play tents with lights…
Colourful lights and changing motions can stimulate the visual sensory system. Users gain an awareness of their surroundings through a safe and calming environment. The most common way to utilise sensory lights inside a play tent are to make use of the calming effects; the relaxing effects help to make a stimulating environment and can improve a child's ability to focus.
The sensory lighting works really well for children with disabilities such as autism; sensory lighting for autism can help a child through stressful, overwhelming moments, enabling them to calm down and feel relaxed.
Some colours can affect a child's mood and concentration...
Typically blue and purple can be very calming colours, or even the plain white sensory lighting. Your play tent with lights can also have a completely changeable environment through the use of the adjustable remote which controls the sensory lighting.
Sensory play can encourage learning through problem solving, exploring and extended creativity. Many children develop their language and motor skills through sensory playtime. Fine motor skills may include activities such as typing their shoe laces, writing and putting on clothing themselves.
The sensory play can encourage children to improve their ability to use smaller muscle groups and practice specific coordinate movements. The more these movements are practised, the more the child's fine motor skills are improved.
Setting-up a sensory tent with lights
It is important to add your sensory lighting to a calming environment because it will transform this environment to a fun, safe space that people can trust. Children must have that safe, calming environment which could be a play tent with lights as this acts as their personal space where they can explore.

Infact a children's play tent with the addition of lighting that makes the room glow can be very cosy and create a lovely atmosphere. Who doesn't love a cosy home environment!


Utilising props and toys
The addition of props and various toys to your sensory play den is a great way to encourage further interaction with your child. At PODS we like to match the toys to the theme, for example if you have the rumble in the jungle POD, you might want to add props such as jungle animals, fake plants, an explorer's kit and bug catcher to make the experience more interactive.
Sensory toys make a great addition...
If your child loves sensory toys and games, you might want to add toys and equipment with corresponding colours such as a lava lamp, bubble tube or glow sticks. This is a great way for children to have that additional sensory experience and to increase that calm, peaceful vibe.

Adding education and learning!
We also love adding in educational based toys such as counters or toys that aid with learning the alphabet. You can make a story based on the theme of your POD, and incorporate learning by asking the children to get involved. This could include activities such as "naming the animals and noises they make" or "learning about different counties."

A new, playtime experience
Many children love a new environment or a new experience to explore. PODS can make a great set-up for your very own glamping experience. This means the POD transports into a learning space where children can do their homework, play or relax.
To read more about ideas on which props and toys you might want to add to your inflatable play tent with lights, read our blog here to discover how you can set-up your POD to post the perfect glamping experience!